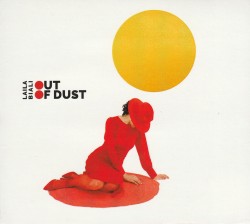 Out of Dust
Laila Biali
Chronograph Records CR-085 (lailabiali.com)
2019 JUNO Award-winner for Vocal Jazz Album of the Year, stunning singer-songwriter Laila Biali's latest release is a truly interesting musical journey and, in her own words, a "deeply personal… album" that reflects the roller coaster the last few years have been for her. The record has a clearly positive tone, it's almost as if you can feel the warm spring sun shining down on you throughout each track. Most of the songs have been composed by Biali herself, with drummer Ben Wittman and her son Joshua Biali-Wittman listed as co-composers on a couple of the tracks. The album includes several renowned musicians such as vocalist Lisa Fischer, drummer Larnell Lewis and bassist Rich Brown, making for a star-studded release overflowing with stellar talent.
As a groovy starter to the record, Revival features a bass riff by Brown that goes straight to the soul of the listener, unique chord progressions and a catchy chorus that quickly have you singing along. Wendy's Song is a touching tribute to a friend of Biali's, Wendy Nelles and is a song that could be considered among the most positive and uplifting on the entire record. The album closes with Take the Day Off, the track co-composed by Biali's son, and has a certain childlike element of wonder to it, amplified by the backing vocals and choice of instruments. A fitting piece to close out the musical journey, as it leaves you with a positive outlook to the world and a curiosity to explore and engage more with your surroundings and loved ones.