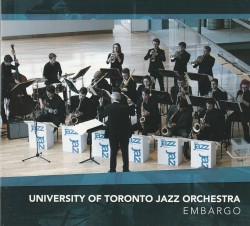 Embargo
University of Toronto Jazz Orchestra
U of T Jazz n/a (uoftjazz.ca)
It is no easy feat to construct an eclectically programmed album that maintains its flow from start to finish, but this is exactly what the University of Toronto Jazz Orchestra, under the direction of Gordon Foote, has done with their most recent release, Embargo. The student compositions on the album all demonstrate intricacy and wisdom, ranging from swing numbers to more contemporary pieces, and everything in between. It is a testament to both the quality of these arrangements and the stylistic programming of the album, that they sound right at home next to legendary trombonist and arranger Rob McConnell's version of Take the A Train. McConnell's treatment of the Ellington/Strayhorn classic is a demanding one to execute, but the ensemble does a fine job, as do the four soloists featured. Hearing the music of the Boss Brass live on through a younger generation of Toronto musicians is a unique treat. It is apropos that this should happen at the University of Toronto, which inherited McConnell's scores and library following his death in 2010.
From contemporary ballads like Jesse Marshall's Summer's Over, and the energetically uplifting title track, Embargo, which features solos from its composer Vonne Aguda and guitarist Julian Bradley-Combs, to Hannah Barstow's Count Basie-esque Medium Blue, a wide scope of large ensemble jazz writing is present on this release. Full of arrangers, composers and soloists who are wise beyond their years, depth and maturity are the true themes of this album.