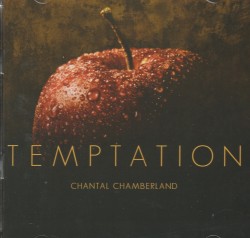 Temptation
Chantal Chamberland
EvoSound EVSA719M (chantalc.com)
Renowned French-Canadian jazz vocalist and guitarist Chantal Chamberland's recent release is a wonderful testament to her musical talent and unique style. Her trademark soulful and sultry voice shines throughout out the record, often accompanied by her melodious and flowing guitar melodies. Chamberland can almost be compared to the late, great Leonard Cohen based on some similarities in vocal styling and smooth genre-crossing ability, albeit she brings a distinct jazz and soul touch to the songs. The album is comprised of well-known pop, soul and blues songs which she has transformed and pleasantly enhanced through beautiful, mellow guitar and vocal stylings into a relaxing and all-encompassing musical journey.
Tracks Temptation and Beautiful Life start the listener off on a path that meanders softly through a sultry musical soundscape in which it is easy to get immersed completely, lulled and guided along by Chamberland's melodious voice. Chasing Cars is a stellar string arrangement by Paul Intson that pulls you right into a magical dream world. A toned down, piano and acoustic bass version of Whitney Houston's hit I Wanna Dance With Somebody is a pleasant and very pleasing surprise in the latter half of the album. Backed by talented musicians Dan Lockwood on drums, Intson on acoustic bass and Eric Boucher on piano results in a perfectly balanced sound. This record is a worthy addition to any jazz or pop aficionado's collection.