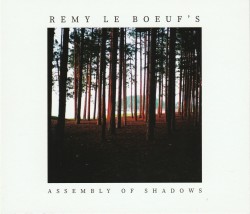 Assembly of Shadows
Remy Le Boeuf
Soundspore Records SS 201901 (remyleboeuf.bandcamp.com)
My introduction to Remy Le Boeuf was an amazing Le Boeuf Brothers concert in 2017 at the Jazz Room in Waterloo. Remy (saxophone), and his brother Pascal (piano), have recorded several albums which push the boundaries of jazz composition and improvisation including 2016's Imagist, a collaboration with the JACK quartet.
Assembly of Shadows, contains the five-part title suite and two stand-alone pieces, Strata and Honeymooners (the latter, an elaborate development of an Ornette Coleman tune). Le Boeuf is writing for a 20-plus-member band and his works are complex and layered; they contain innovative orchestration and leave room for individual performers to shine with improvisatory sections. (Anna Webber's flute playing on Strata and Alex Goodman's quietly elegant guitar work on the second movement of the suite are noteworthy.) I recommend searching for Strata on YouTube and watching the highly engaging live performance.
The Assembly of Shadows suite tells the story of a child who becomes lost in a forest, falls asleep, then wakes to dance with the trees and is eventually guided home. All five movements contain exciting and nuanced material and the final A Light Through the Leaves ends with a beautiful and elegant section with full horn tones with an inner moving line leading to a delicate flute and piano duet (which ends with the child going to sleep safe in her own room). Assembly of Shadows is modern, complex and highly recommended.