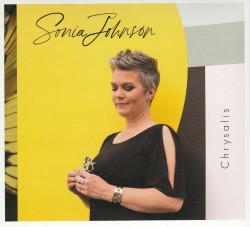 Chrysalis
Sonia Johnson
Independent PSJCD1911 (soniajohnson.com)
Creating an album of music where disparate musical styles come together can seem burdensome on paper. But when there is just too much in the essence of music to be left out, indulging everything becomes imperative. This is the raison d'être for Chrysalis the first English language album from the francophone artist Sonia Johnson. The title suggests a bringing to birth of something transformative. It certainly seems so after the last notes disappear into the air.
But more than anything else, you get the sense that Chrysalis is a labour of love. Featuring beautifully crafted arrangements of beguiling variety and sensuousness, in every lovingly caressed phrase, Chrysalis lays bare Johnson's adoration of music in all its harmonic sumptuousness. Her chosen material consists of original songs – either written by her, or co-written with others whose work she delights in – so that listening to this music feels like opening an ornate box to reveal hidden gems.
For instance, listening to the way in which Johnson seductively bends the notes in Storm and Monsters, and how she sculpts the long, sustained invention of We Need to Know, it's clear that there's not a single semiquaver that hasn't been fastidiously considered vocally and instrumentally by an ensemble attuned to Johnson's artistic vision. Two other vocalists – Judith Little-Daudelin and Elie Haroun – deliver powerful performances. Meanwhile Johnson's mellifluous timbre beguiles throughout as she digs deep into her nasal, throat and chest voice.