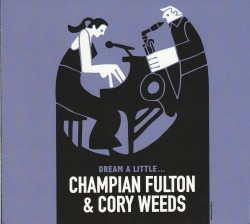 Dream a Little…
Champian Fulton; Cory Weeds
Cellar Live CLO22519 (cellarlive.com)
It is probably pure happenstance, but a song such as Dream a Little Dream of Me seems to have been written for just such an intimate encounter as between pianist and vocalist, Champian Fulton, and saxophonist and impresario, Cory Weeds. What is no accident, however, is the fact that these two musicians seem to automatically fall in with each other, melodically, harmonically and rhythmically, so that axiomatic sparks begin to fly.
Weeds plays with quiet brilliance throughout Dream a Little… His uniquely sophisticated and sonorous style weaves in and out of the vibrant and affectionate expressivity of Fulton's pianism, her voice often becoming the crowning glory of the songs here. Both musicians seem to connect in a rarefied realm, but they then descend to earth where they each inhabit a palette of sumptuous colour. Then, like a couple in love, playfully oblivious of the attention they have attracted, they hold each other's music in a tight embrace.
There is too much proverbial gold on this album, but I am going to risk suggesting that the biggest ear-opener is Darn that Dream. This performance burns in the quietude of the bluest part of a musical flame; its languid, seemingly interminable narrative made to simmer forever in a rhythmic and sonic intensity where Weeds contributes lyrical prowess, while Fulton offers her brilliant vocalastics, which sustain the music's emotional mood while bringing the text's poetic imagery to life.