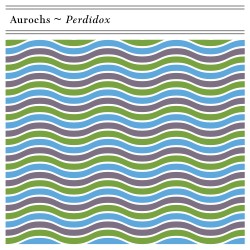 Perdidox
Aurochs
All-Set Editions (all-set.org)
Aurochs is an improvising group consisting of Ali Berkok (piano), Pete Johnston (bass), Jake Oelrichs (drums) and Mike Smith (live signal processing electronics) with a monthly Friday night residency at the Tranzac club in Toronto. Perdidox contains two longer improvisations, Grammar Architect and Perfect Future, which the group describes as "long slow atmospheric disturbances." These works contain many elements including minimalism, jazz, funk, pointillism and general avant-garde mayhem. The addition of Smith's electronics to the classic jazz trio instrumentation creates sounds that are repeated with delay, reverb and other treatments that blur distinctions between what is live and what is sampled and regenerated.
Both works have a strong rhythmic impulse for most of their span which drives the narrative forward. Grammar Architect maintains a sustained and funky forward momentum with many tasty riffs from Oelrichs, from shuffle to hypnotically off-centre snare, which plays off Johnston's juicy bass sound. Perfect Future has a great break around the seven-minute mark where a simple bass riff is sampled and looped but most of the bass timbre has been taken away. The other players drop away and allow this riff to create a space before the second major section of the work which involves much tapping and scratching of instruments. The final portion contains many piano interjections that mix some Romantic elements with angular modernist riffs; towards the end, the drums and bass find a jazzy marching groove.
Perdidox is being released on SoundCloud which is becoming common in this age of multiple streaming platforms.