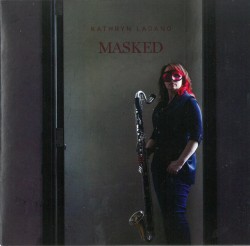 Masked
Kathryn Ladano
Independent (kathrynladano.com)
I have it on good authority from the most celebrated virtuosos of the bass clarinet that it is a challenging instrument to play and certainly diabolically difficult to master. In ensemble, the ink-dark character of its sound is featured prominently in the wall of lower register instruments, used almost percussively by its virtuosos to often create the effect of deep, staccato repetitions, played beneath the melody to conjure a feeling of slowly fluctuating cycles. Those who approach the instrument are extremely brave. The great bass clarinetist Eric Dolphy certainly was. Together with Gunter Hampel, Don Byron, James Carter and Paul Austerlitz he led a tiny tribe of others that now includes Kathryn Ladano.
Masked is the second solo album for bass clarinet by Ladano. Its title comes from her PhD thesis, The Improvising Musician's Mask: Using Musical Instruments to Build Self-Confidence and Social Skills in Collective Free Improvisation. Like Austerlitz, an academic and performer whose work probes the relationship between Vodou, improvised music and altered states of being, Ladano also pays close attention to extra-musical aspects of improvisation as she translates elements of her thesis in the music of Masked.
Things socio-psychological, philosophical and spiritual apart, Ladano's music gives wing to emotion. The plaintive bleats, nasal drones and breath-like human smears combine in yammering snorts, phrases and long, loping lines whose long and winding improvisations don't always have beginnings and ends but often make you gasp in abject wonderment.