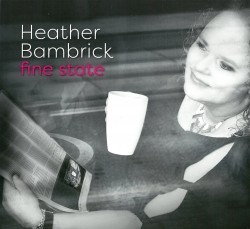 Fine State
Heather Bambrick
Heather Bambrick Music HBCD-004 (heatherbambrick.ca)
Heather Bambrick, that beloved – and often goofy – voice familiar to anyone who tunes in to JAZZ.FM91, weekdays between 9am and 1pm (and nightly on Wednesdays), shows off her attractive pedigree with another solo recording. This album, Fine State, also confirms her growing reputation as an artist of the first order. Her voice throughout is fairly light and limpid, though not without sinew.
Bambrick's diction is exceptional, reflecting real imagination behind repertoire that spans standards as well as thoroughly interesting new work composed by her as well as other writers of repute. This is ingeniously selected music, reflective of the high quality of the production by the drummer on this date, Ben Wittman, and Jono Grant, a longtime Bambrick associate, together with the vocalist herself.
If it's hard to single out one track as being the most perfect example of Bambrick's musicianship, it is equally hard to pick a favourite (because that would change with each playing of the recording). However, I would posit that Bambrick's version of Milton Nascimento and Fernando Brant's utterly beautiful song, Bridges (sung here with Gene Lees' English lyrics) might be described as this disc's crowning glory. Here we have a song, the poetry of which is infused with a sense of nostalgia and melancholy, its fluid melody delicately painted by a candid voice urged on by wistful instruments. Clearly an album to die for…