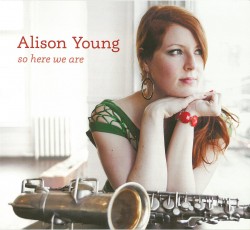 So Here We Are
Alison Young
Triplet TR10023 (alisonyoungmusic.com)
Stellar, JUNO-nominated saxophonist Alison Young has released her diverse, long-awaited debut album. Those who have had the pleasure of seeing Young play live know what to expect from this record and it definitely lives up to and exceeds all expectations. There is no shortage of great musicianship on the album, featuring well-known musicians such as Eric St-Laurent on guitar, Jeff McLeod on piano and organ, Ross MacIntyre on bass, Chris Wallace on drums and Guido Basso on flugelhorn. Pieces do a great job of showcasing the talents of all musicians and are mostly written by Young herself, with the exception of three tracks.
Diversity is found throughout every piece in this album. There are contrasts between elegant and energetic, driven melodies, as well as various inspirations ranging from "hard bop to soul to New Orleans-style funk." Cedar Roots starts the record off with a righteous bang and is a strong example of the drive that drummers Chris Wallace and Sly Juhas bring to each track. Afterparty delves into a New Orleans-esque flavour with Young's soul and funk inspirations showing through, as well as a delicious hint of traditional rock 'n' roll added to the mix. Celia & Harry and title track, So Here We Are, display another side of the saxophonist's playing, leaning towards elegance, grace and a hark back to a more traditional jazz sound. Young's album is a thoroughly enjoyable musical journey for all jazz lovers.