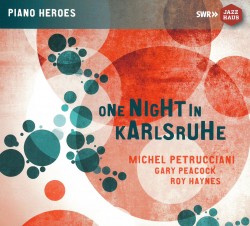 One Night In Karlsruhe
Michel Petrucciani; Gary Peacock; Roy Haynes
SWR Jazzhaus JAH-476 (naxosdirect.com)
Michel Petrucciani, who once said, "I think someone upstairs saved me from being ordinary," followed up his proclamation with a vast discography of truly extraordinary music. He had the virtuosity of an Oscar Peterson and the fluttering lyricism of Bill Evans and Keith Jarrett. However, his playing is characterized by a singular voice driven by an almost primal energy and an edgy emotionality. Although he was marked, throughout his short life, with monumental pain from osteogenesis imperfecta, his music expressed unfettered feelings of joy.
One Night in Karlsruhe, made at a live performance in July 1988, captures him at the height of his pianistic powers and he appears to be made completely of music. Petrucciani always had an infectious way with dancing rhythms and the program is rich in expressive contrasts and diverse song forms in which dance and variation occupy a position of importance throughout. His playing – on 13th, In a Sentimental Mood, Embraceable You and a signature bravura version of Giant Steps – has a particularly magical touch to it and he responds to the diabolical changes on the latter with spontaneity – while at the same time communicating the music's sense of colour and of pageant.
Petrucciani also approaches the music's harmonic boldness and astringency with a kind of vivid bas-relief. He is accompanied, on this sojourn, by bassist Gary Peacock and living legend, drummer Roy Haynes. The intensity of this power trio is magnificently captured on this recording.