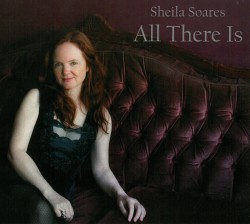 All There Is
Sheila Soares
Independent (sheilasoaresmusic.com)
Gifted vocalist and composer Sheila Soares' new recording is one of the freshest, most engaging and thoroughly musical CDs to be released this year. Although Soares is no unseasoned debutante, her debut offering is rife with new, intriguing, genre-blurring original material and fine musicianship. Deftly produced by talented guitarist Eric St-Laurent, Soares' excellent collaborators also include Jeff McLeod on piano and organ, Jordan O'Connor on acoustic bass and Chris Wallace on drums.
At first blush, there is an obvious sonic similarity between the vocal timbre of Soares and the late Blossom Dearie; however, Dearie (with her quirky, narcissistic performances) never came near Soares' interpretive sensitivity and jaunty songwriting style. It may be that good tunesmiths (such as Soares) are just "born" when the creative stars align, and they can enter our consciousness at any point along their journey – it's inevitable… and as Soares says, "Music is like breathing to me."
Highlights include the lovely title track, as well as the stunning Les Fraises Sur La Lune (Strawberries on the Moon), which displays Soares' skilled, pitch-pure vocal instrument and considerable ability to swing. The romantic Constellation boasts not only beautiful chord changes, but also a lilting melody and a gentle, rhythmic jazz sensibility that make this gorgeous track a total standout. Jazz has many faces and expressions, and happily for all of us, Soares will no doubt be delighting us with her jazz eclecticism and irresistible perspective for a very long time to come.