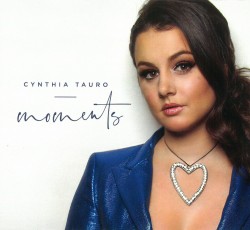 Moments
Cynthia Tauro
Independent (cynthiatauro.com)
There can be no doubt that emerging jazz pianist and vocalist Cynthia Tauro is a stunning, talented breath of fresh air. Her debut CD is a clever juxtaposition of interesting standards, and Tauro's original, irresistible compositions. With a musical pedigree that goes back generations, Tauro has a wealth of musical technique, as well as a recognizable and appealing vocal sound – alternatingly soft as velvet and sharp as a razor. On her debut recording, Tauro has put together a talented ensemble, led by eclectic, brilliant and intuitive producer/composer George Koller on bass and A-list jazz players Ted Quinlan on guitar, Davide DiRenzo on drums, Perry White on tenor saxophone and Colleen Allen on soprano sax, clarinet and flute.
The CD kicks off with Tauro's original tune, Dancin' On My Own. Interesting chord changes, superb musicianship and a no-nonsense lyric make this track a standout (including Perry White's Hank Mobley-esque solo). Another excellent choice by Tauro is her version of 1937's Someday My Prince Will Come. Tauro's pitch-pure soprano sails over the lyric, imbuing it with a contemporary emotional edge, while her piano work is both substantial and swinging.
Without question, Cara Valente is sung with skill and precision in luscious Portuguese. Tauro's deep, innate rhythmic feel, as well as her vocal timbre and fluidity are nothing short of breathtaking – bringing to mind the late Elis Regina. The CD's bilingual closer, One Note Samba, is a triumph. Despite her jazz ingénue status, Tauro is already a fully realized pianist, songwriter and vocalist, and it will be fascinating to see what's next for this talented artist!