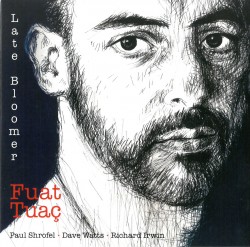 Late Bloomer
Fuat Tuaç
Independent (fuattuac.com)
With the release of his debut CD, Turkish/Canadian vocalist, Fuat Tuaç has presented an intriguing, multicultural jazz recording, comprised of freshly arranged, under-trodden standards and Tuaç's original title track. He is joined here by a superb group of musicians, including Paul Shrofel on piano, Dave Watts on bass, Richard Irwin on drums and Dave Turner on saxophone. Tuaç is equally comfortable singing in English, French, Turkish, Portuguese and Italian – easily capturing the lyrical essences of each language.
Manha de Carnaval (A Day in the Life of a Fool) is a standout. The rich, rhythmic arrangement is enhanced by Turner's warm, mellifluous alto lines, which soon metamorphose into a gymnastic and powerful solo; Tuaç's acoustic, unvarnished, exotic sound is beautifully complemented in this Luis Bonfa classic. Another highlight is Ellington's Caravan. Profound, throbbing bass lines from Watts and Eastern rhythmic patterns succinctly executed by Irwin define this interpretation, as Tuaç seamlessly segues between straight ahead bop and heady pentatonic vocal motifs. The scent of exotic spices and the sight of auburn-tinged Bedouin tents are almost palpable here.
Two additional highlights include a vigorous and contemporary rendition of Chick Corea's Spain, in which Shrofel's luminous musicianship and Irwin's inventive, Iberian and rock-steady propulsion are featured; and also the cinematic Rendez-vous vers huit heures (Drault), which is an elegantly performed possible movie theme in search of a black and white French film – Tuaç is reminiscent of the late Charles Aznavour here... musical, mysterious, evocative and très sensual!