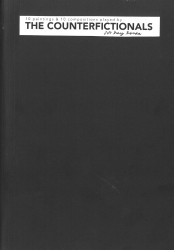 No Hay Banda
The Counterfictionals
Good Music GMCD006 (counterfictionals.dk)
Rarely, if at all, do industrial and fine art come together in a package so well thought out (from concept and presentation to imaginative musical execution, and in the sheer invention and hyper virtuosity of the performing Danish musicians) than on the Counterfictionals production entitled No Hay Banda.
No Hay Banda has been conceived of and directed by Kristoffer Rosing-Schow, a multi-instrumentalist who plays everything from bass clarinet to invented instruments such as the hydrofonium, described here complete with diagram, how it works and, best of all, how ethereally beautiful it sounds. Speaking of which there is the not-so-small matter of the music itself. The ten songs, bring back to life key scenes in famously well-made and notoriously badly made films from David Lynch's Mulholland Drive (Counterfictionals' song: Club Silencio), Sergio Leone's For a Few Dollars More (song: Lee Van Cleef) to Alan Parker's Angel Heart (song: Looking for Johnny Favorite) and Lars von Trier's Antichrist (song: The Three Beggars).
In each case, brilliant musicians get closer to the chilling, sardonic heart of the film – scenes depicted in the songs with immensely powerful performances combining cast-iron virtuoso discipline with heady imagination and sheer fantasy, all of which matches the originality of Rosing-Schow's artistry and vision. Let neither the ironic band name nor the album title be lost in this magnificent mêlée of music either, for what could a name such as Counterfictionals suggest but No Hay Banda (There's no band)?