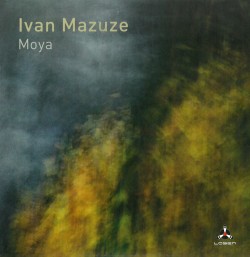 Moya
Ivan Mazuze
Losen Records LOS 209-2 (losenrecords.no/release/moya)
With his fourth album, Mozambique-born saxophonist and composer Ivan Mazuze, now based in Norway, continues his exploration of interrelations between traditional and contemporary music. The result is Moya, an elegant synthesis of the melodies and rhythms of African and Indian music with contemporary jazz elements. Mazuze is a polished and particularly sensitive saxophone player. His musical language is both delicate and passionate, his expression clear and meaningful. This album also features a wonderful crew of musicians from around the globe, including Olga Konkova (on piano), who has a great synergy with Mazuze, and Bjørn Vidar Solli (on guitar), who delivers some truly impressive solos.
Moya opens with contemplative Rohingya. Inspired by the Rohingya people of Myanmar who were recently displaced from their homeland, this piece has a melancholy feel driven by a rhythmical tabla pulse. It flows naturally into Mantra, a lively tune featuring an alluring combo of vocal chanting and instrumental discourse. The most interesting track on the album for me is Lunde, inspired by Norwegian folk music and highlighting cool vocals by Hanne Tveter. And there is Moya, the focal point of the album. It's meaning in the Mozambican language is spirit/soul and it is immediately apparent that it holds special significance for Mazuze. The interplay between sax and piano captivates the listener with changing colours and meaningful dialogue.
This album has funky grooves, soulful melodies and, most importantly, a distinct and catchy sound. Highly recommended.