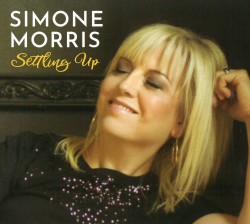 Settling Up
Simone Morris
Independent (simonemorris.ca)
Toronto jazz vocalist Simone Morris' debut album Settling Up is an absolute treat to the listener, a pop of delicious and sultry goodness in an otherwise dull and dreary day. The album was born out of a longtime collaboration with guitarist Mike Freedman, who is featured as a co-writer on each track along with Morris. Freedman's mellow and fittingly soulful electric guitar licks, in combination with acclaimed pianist Adrean Farrugia's delightful keyboard and piano riffs, add just the right amount of spirit to complement Morris' soulful vocals.
Morris has described the album as "weaving a musical path that conveys diverse musical experience and background." It is easy to fall into a pleasant lull and meander along this path with each piece offering a new stylistic experience that perfectly showcases her unique timbre and exceptionally varied musical background. From tracks such as Baby This Works and Man in the Corner, which delve into traditional jazz, to Don't Come Crying To Me, an excellent, soft bossa nova, Morris' artistic talents are made very apparent. With a very unique timbre, slightly Krall-esque but with an intriguing touch of spunk, she has succeeded in creating a captivating modern yet timeless quality within her music.
Not only do we receive an absolutely lovely and charming musical experience from this record, we are also able to catch a rare and intimate glimpse into Morris' life experiences. Settling Up will delight jazz aficionados and newcomers alike.