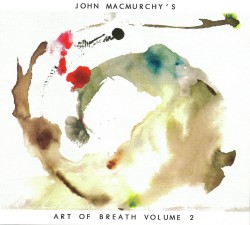 Volume 2
John MacMurchy's Art of Breath
Flatcar FCR-007 (johnmacmurchy.com)
The brainchild of woodwind player John MacMurchy, Art of Breath is a collective of jazz musicians playing across genres and musical borders. Perhaps heartchild is a better term, because it's apparent that a lot of feeling went into these songs, all but one composed and arranged by MacMurchy.
The album opens gently and beautifully with Calliope, which features singers Jocelyn Barth and Jessica Lalonde in harmony throughout and a lulling solo by Dan Ionescu on nylon-string guitar. We're moved into breezy Brazilian territory on Meu Coracao Canta which features band member and Brazilophile, Alan Hetherington and Rio de Janeiro-native, Maninho Costa, on percussion. Listen for the clever interplay of cuíca and voice near the end of the track.
We get jolted out of our daydream by the next few tracks which tackle tougher topics, like American politics, and the music gets more strident but no less superb. Bruce Cassidy's masterful work on EVI – an electronic valve instrument, (an offshoot of the EWI) that came to prominence in the 70s and that's quite a rarity these days – lends an urgent and interesting layer to Voice of America and the driving jazz number, WTF. Drummer Daniel Barnes, bassist Ross McIntyre and pianist Stacie McGregor keep it swinging on Slippery When Wet.
Both singers have gorgeous solo turns – Jocelyn Barth is exquisite and not overly sentimental on the Bobby Troup heartbreaker, February Brings the Rain, while Jessica Lalonde nails the vocally challenging Autumn Brown and Blue to close out the album.