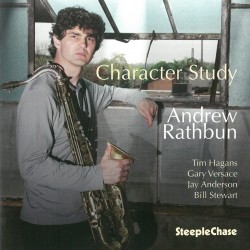 Character Study
Andrew Rathbun; Tim Hagans; Gary Versace; Jay Anderson; Bill Stewart
SteepleChase SCCD 31862 (andrewrathbun.com)
Andrew Rathbun's latest release Character Study takes the listener on a unique and varied musical journey; a journey that showcases his excellent and imaginative talents as a composer-arranger and saxophonist. All pieces on the album, with the exception of Etcetera, are written by Rathbun himself.
The foray into the proverbial musical jungle begins with the sensational opening track The Golden Fool, where bassist Jay Anderson's energetic runs and percussionist Bill Stewart's constant shuffle beat keep listeners on their toes, awaiting what unique elements Rathbun has in store for the rest of the piece and the record as a whole. Pieces such as Team of Rivals, His Quiet Determination and The Long Awakening display Rathbun's contemplative and lyrical sides and are also a testament to his delightful, dance-like and extraordinary talent as a saxophonist. The title track provides an exemplary contrast between lyricism and liveliness, a theme that seems to present itself in several compositions.
Many of the tracks allow ample opportunities to appreciate the musicians who contribute to the musical journey as a whole through various thoroughly enjoyable and virtuosic solos. The ever-present and exceptional dynamic collaboration between instruments is very apparent and noticeable throughout the record and it is easy to appreciate the contribution of each musician to breathing additional life into Rathbun's compositions. Character Study serves as yet another attestation to the undeniable talent and artistry of the Toronto native.