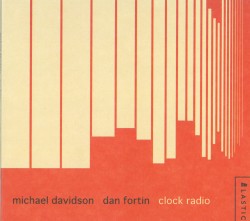 Clock Radio
Michael Davidson; Dan Fortin
Elastic Recordings ER 001 (elasticrecordings.com)
Think of a duet featuring a vibraphone as one of the instruments in a jazz recording and the iconic ones with Gary Burton and Chick Corea jump to mind. So by association, vibraphonist Michael Davidson's duet with bassist Dan Fortin is already in good company. However, it isn't simply this fact that makes this a duo recording (albeit with a bassist) that merits curious, if not close listening; what matters much more is the fact that, between Davidson and Fortin, the musicians marshal their forces with superb discipline, producing a wonderfully fresh sound which also manages to possess the requisite amount of mystery – essential for a work this spare in sound.
Clock Radio is a collection of musical impressions and memories of Davidson's apprenticeship, in 2017, with the celebrated mallet percussionist David Friedman in Germany. Davidson strikes the sound bars with hard and soft mallets to bounce bright, orotund tone colours off his instrument. He invites Fortin into this soundworld. The bassist engages in the musical conversation with angular counterpoint that is characterized by the ink-dark rumble of his instrument.
The disc is dappled with – among others – elements from a suite-in-the-making titled Berlin; miniatures imbued with contrapuntal unison passages, as well as restless, scurrying and brilliantly inventive features from one musician in response to the other. And the miraculous piece entitled zwei werden eins (Two Become One) makes vivid listening from a partnership we hope to hear much more from.