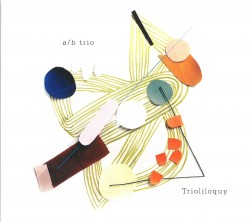 Trioliloquy
A/B Trio
Chronojazz CR065 (chronographrecords.com/releases/trioliloquoy)
While the slyly clever play on words in the title may suggest drama and a certain angular structure to the music, nothing can really prepare you for the fierce energy that leaps out of the opening chords of the A/B Trio's opening chart Lenny's Beat. It's an immensely exciting start to a recording that has you on the edge of your seat.
Primary colours abound in the textures that often rustle in the raw silk of Dan Davis' saxophones that receive a mighty fillip from the brassy ones that special guest, trumpeter Kevin Turcotte, brings to the trio. All this while bassist Josh McHan and percussion colourist Thom Bennett keep the music on a tight rein, with rhythms and phrasing that are tight and alert.
It's quite a shock to also see how fast the music can move from the tempestuous opening chart to the stately canter of the romantically inclined How Suite It Is, where the musicians take an elegiac view of the written material and work around it to produce something quite magical even in a walking rhythm.
The poetic waltz Leda's Song later in in the repertoire keeps things deliriously romantic and balletic at the same time; this before the heat is turned up once again with the raw and gutsy Bluesaholic and the tantalizing interplay of Secondary Opinion that closes this edifying music. Capture that in a recording that gives space to sound and you have a winner.