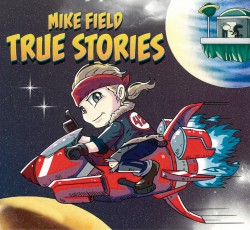 True Stories
Mike Field
Independent MFJCD 1801 (mikefieldjazz.com)
Following three previous award-winning CDs, trumpeter/composer/vocalist Mike Field presents a heady blend of his actual diverse, peripatetic road experiences expertly merged with compelling bits of pure fantasy. Field serves as composer here, as well as co-producer/co-arranger with noted guitarist Dominic Mancuso. In order to bring his eclectic concept into reality, Field has assembled a cast of fine musicians, including Mark Camilleri on piano/organ, Russ Boswell and George Koller on bass, Davide Direnzo on drums, Rosendo "Chendy" León on percussion, Mancuso and Tony Zorzi on guitar and Jerry Caringi on accordion.
The project kicks off with Mechanic, a hard-rocking anthem, replete with burning horns, face-melting guitar and impassioned vocals by Field that tell the story of a lonely, travelling space mechanic. Following immediately is another standout, The Hotel by the Mansion, which features a klezmer-like arrangement about a very peculiar circus act, starring a woman with fire in her hair (the kind of act that you can only do once!) Field soars on Tu vuo' fa' l'americano – a lusty reworking of Carosone and Salerno's Neapolitan classic, most recently heard in the film, The Talented Mr. Ripley, replete with a bombastic accordion solo from Caringi.
Also of note are Magnolia, a swinging, jazz-like tune that features not only a fine vocal by Field, but also a dynamic trumpet solo, and the lyrical closer, Autumn Lovesong, which is a tender reflection on love, life, family, the turning of the seasons and the inevitable passage of time. Field sings deeply and emotionally, in symbiosis with gorgeous piano work by Camilleri.