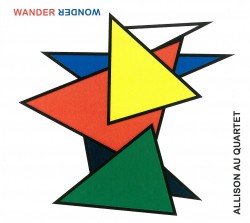 Wander Wonder
Allison Au Quartet
Independent AA-18 (allisonau.com)
The Allison Au Quartet has been together since 2009 and their first album, The Sky Was Pale Blue, Then Grey (2013) was nominated for a JUNO. The second album, Forest Grove, won a JUNO in 2016 for Best Jazz Album of the Year: Group. Wander Wonder is their third release and is a thoughtful and subtle work with each musician contributing their technique and inspiration to Au's complex and layered compositions. For example, the group's casual precision is demonstrated during the drum solo which ends Force Majeure: Fabio Ragnelli plays with abandon while Todd Pentney (piano) and Jon Maharaj (bass) lay down an understated and contrasting, repeating chordal vamp. Throughout the album, Au's alto saxophone is light but intense and reminds me a little of Paul Desmond but leaner; it fits well with her writing where solos are interspersed with ensemble sections and melodic fragments.
Highlights include Looking Up which begins with Ragnelli's subtle drum intro. Then Au plays a beautiful looping melody over clever rhythmic punctuation, an ostinato bass pattern interrupts before the melody returns and leads into an elegant piano solo. Red Herring begins with a syncopated minor melody over funky and jagged beats. As the piece progresses, Pentney's Prophet Rev2 adds an ominous texture for some additional tension. The piece winds its way down a number of genre alleys (as its title suggests) and is ultimately satisfying and not at all misleading. Wander Wonder is an exquisite album that balances introspection with some terrific solos.