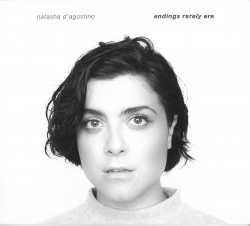 Endings Rarely Are
Natasha D'Agostino
Independent (natashadagostino.com)
What a bold move for Natasha D'Agostino to begin Endings Rarely Are, a debut album, with an original song in a minor key and sung with a seemingly endless line of wordless vocalastics. It immediately sets the tone for a very unusual album. But the young Vancouver-based Canadian is not only an audacious vocalist who has decided to buck the conventional trend, but also leaps off a musical cliff time and again when singing her own compositions, and also four wonderful jazz standards.
D'Agostino's agile, luminous voice seems ideal for this kind of derring-do and she sings with power and subtlety. Immediately after two originals, including the aforementioned show-opener Flutter, she serves notice that she will worship at the altar of originality by swinging Earl Brent's Angel Eyes at a blistering pace, turning the 1946 original on its proverbial head. And we find her taking a similarly bold and angular approach to the rest of the standards, especially in an intoxicating version of You Go to My Head and a touching rendition of I'll Be Seeing You.
But the highlight of the album are D'Agostino's originals, each of which she illuminates with wonderful control not only of narrative and emotion but also of lyricism and texture of word and line, which boasts some beautifully controlled singing in the deft tapering of quiet dynamics. Her resonant timbre deepens in Home, where she engages a wonderful band completely attuned to her artistry.