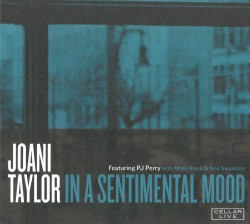 In A Sentimental Mood
Joani Taylor (featuring PJ Perry; Miles Black; Neil Swainson)
Cellar Live CL111517 (cellarlive.com)
After the sudden passing of her husband and musical partner, followed by a brutal (but victorious) battle with leukemia, veteran Vancouver-based jazz vocalist Joani Taylor was in no mood to record an album of standards. Fortunately for jazz listeners everywhere, Taylor was ultimately coaxed back to the microphone by iconic saxophonist (and lifelong friend) P.J. Perry. As the project began to take shape, inspired pianist, Miles Black, created arrangements of Taylor's personally-selected tunes that framed her voice like a Tiffany setting, and fully embraced the considerable talents of multi-saxophonist Perry and bassist Neil Swainson.
Each of the 12 tracks are rife with skill, inspiration, and of course, Taylor's sumptuous alto voice. There is no gratuitous, ill-informed scat-singing here – just superb musicianship, flawless and fluid interpretation, as well as a voice that reflects a lifetime in jazz. The CD kicks off with the Rodgers and Hart classic, This Can't Be Love. The sound is authentic, warm and swinging – as is Taylor! The fine title track is a languid trip to the smokiest, hippest jazz boite in town. Taylor's voice is full of power and intent, and her phrasing wrings every last emotional drop out of each Ellingtonian phrase.
A true standout is Taylor's rendition of the Vincent Youmans hit, More Than You Know. Black and Swainson move contiguously through the bluesy, musical landscape while Taylor's voice lilts and wails like a horn, until Perry enters the scene with a sax solo that elevates the tune to a whole new level. No doubt, this is one of the finest jazz vocal recordings of the year, and should be a required part of any serious jazz curriculum.