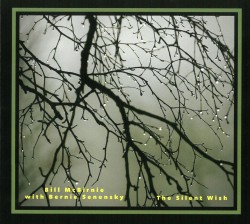 The Silent Wish
Bill McBirnie; Bernie Senensky
Extreme Flute EF08 (extremeflute.com)
The Silent Wish brings the two loves of flutist Bill McBirnie – his mastery of the flute and his love for his wife – together in a sunburst of 12 familiar and rarely performed gems. A true virtuoso, who counts the great classical flutist Sir James Galway as a diehard fan, McBirnie does not make many records. Consequently, each production is a work of several months (sometimes years) of painstaking selection and agonizing rehearsal which always yields a work of polished, honed craftsmanship.
This bejewelled 2018 masterpiece is a duet with another celebrated Canadian musician, the pianist Bernie Senensky. Both McBirnie and Senensky have acquired reputations for being fine craftsmen on their respective instruments, but while they are masterful virtuosos their music eschews ornament for the ornament's sake. Instead their virtuoso flights are completely dedicated to the melodic beauty of the music, which is tossed from flute to piano in great flights of harmonic fancy.
To that end the two musicians infuse these 12 conventional songs – a variety of idioms and styles – with an intimacy and an emotional intensity which can only be described as the poetry of feeling; and there is no finer example of this than the performance of Charlie Haden's First Song. There is a feeling that this record is ballad-like, but tempi often vary and songs often abound in quite startling dramatic contrasts with moments of lyric tenderness being followed by passages of tumultuous energy, always played with unruffled grace.