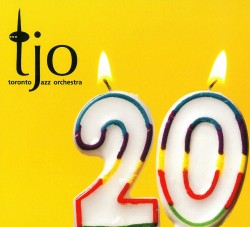 20
Toronto Jazz Orchestra
Independent TJO004 (thetjo.com)
One of the more exhilarating jazz listening experiences is the sound of a well-rehearsed big band firing on all cylinders and this is what we get with the Toronto Jazz Orchestra album 20. The recording and production is impeccable, so we hear the full aural effect of the dynamics from a tight rhythm section with clear bass, drums and piano fills, to full brass and saxophone harmonies. The album title refers to the band's 20-year history, and where previous releases included several live recordings and used different Canadian composers, 20 was recorded completely in the studio and features the compositions and arrangements of artistic director Josh Grossman. An album highlight is 4 PN, a tribute to jazz icon Phil Nimmons on his 90th birthday. This piece's four movements encompass several moods, from straight ahead swing, to an introspective third movement (Birdsong) and a very funky final section (Flat 10 Strikes Again). The first movement, The Land of 2 and 4, contains an excellent bop trumpet solo by James Rhodes that has a touch of Jack Sheldon to it. Ben Ball's drum solo navigates us to the second movement, Under a Treeful, which contains a wonderful and idiosyncratic clarinet solo from Paul Metcalfe that I believe Nimmons would appreciate. Overall, 20 is full of catchy melodies and arrangements that leverage the big band pallette of sounds; the ensemble and solo musicianship is excellent. We can hope there are at least another 20 years in this band's future.