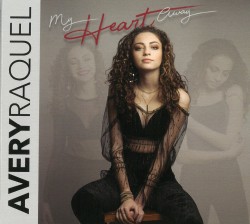 My Heart Away
Avery Raquel
GKM GKM1035 (averyraquel.com)
Avery Raquel is clearly an artist for whom superstardom is just a matter of time – shorter than one might think, judging by the results of her performance on My Heart Away. On this disc Raquel reveals herself as an artist of the first order, broadening out from the run-of-the-mill pop repertory which many of her generation are stuck in. Her instrument is gorgeous: lustrous, precise and luminously powerful. Her musicianship is fierce as she digs into the expression of each word of the lyrics she writes and sings.
Raquel is accompanied here by a constellation of Canadian superstars – producer and guitarist Greg Kavanagh, pianist Adrean Farrugia, bassist Ross MacIntyre, drummers Joel Haynes and Ben Riley – to name just a few of those who flesh out the music here. Together they create the defining moments on the powerful ballad Who I Am.
The music on the disc recalls the heyday of Motown and Stax recordings with benchmark performances of vocal music characterized as soul. However, none of this work would soar quite so high into the rarefied realm of music were it not for Raquel's genuine gifts. The manner in which songs speak to her leads one to believe that the connection is powerful and personal. How she responds to these narratives is nothing short of miraculous and each song gains enormously from this relationship between songwriter, song and vocalist. All of this makes Raquel a musical rarity.