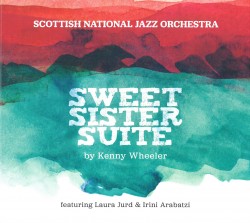 Sweet Sister Suite by Kenny Wheeler
Scottish National Jazz Orchestra featuring Laura Jurd & Irini Arabatzi
Spartacus Records STS026 (snjo.co.uk)
The late legendary Canadian trumpeter and composer Kenny Wheeler (1930-2014) was a quiet, complex genius. Although perhaps not a household name, Wheeler was held in incredible esteem by the global jazz/music cognoscenti (including John Dankworth, Dave Holland, Bill Frissell and Lee Konitz). His rhythmically and harmonically revolutionary compositions and arrangements have been performed worldwide – including in the United Kingdom – the place that he called home after 1950.
The recent release of Wheeler's emotional and autobiographical work recorded by the Scottish National Jazz Orchestra (produced by, and under the direction of Tommy Smith) is a magnificent tribute, worthy of the great, humble man himself. Wheeler's music is propelled by the contributions of trumpet, flugelhorn and voice – rendered here by skillful trumpet/flugelhornist Laura Jurd and vocalist Irina Arabatzi (although one could easily imagine the luminous voice of Wheeler's longtime collaborator, Norma Winstone).
There are eight compositions in the Suite, beginning with Sweet Sister, which features heartbreakingly beautiful horn work by the gifted Jurd, and a pitch-perfect and gymnastic vocal line from Arabatzi, segueing into fine rhythm section work and culminating in sumptuous, swinging, contrapuntal, jazz-puro, big-band ear candy. Also outstanding is Keeper of the Light. The moving lyric reflects Wheeler's journey into the realm of his most secret self, illuminated by a potent sax solo from Smith and equally potent playing by the entire talented ensemble.
Wheeler's massive (and always modestly given) contribution to contemporary jazz is evident in every note of this recording – which is a stunning celebration of the man and his work.