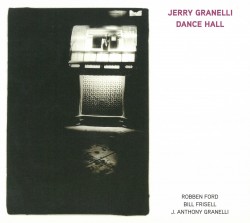 Dance Hall
Jerry Granelli
Justin Time JTR 8606-2 (justin-time.com)
Listening to this marvellous recording by drummer Jerry Granelli, one cannot help but be seduced by the mood and atmosphere – sometimes genuinely spooky – and with the drummer's sublime ability to coordinate shade and structure to a rare degree. Every one of the eight pieces here is played by Granelli with languid ease, each rhythmic variation following the other inexorably, from the bluesy brilliance of Boogie Stop Shuffle to the sinister elegance of Driva Man.
As if things could not get any more perfect, guitarists Bill Frisell and Robben Ford team up with Granelli and his son and bassist J. Anthony Granelli to sculpt and shape the sustained inventions of The Great Pretender, Caldonia and other pieces with endless craftsmanship, beguiling variety and sensuousness.
The power and stylishness of this music makes this a champagne disc, full of fizz and finesse. It is also music of enormous drama, full of glinting lights, mysterious depths, expectations, frustrations, hopes and doubts, like the shattered shadows of a sinister quasi-existential soundtrack to life glimpsed by moonlight in a forest. There's an unhurried quality to this approach, a lived-in character to the rhythmic phrase-making that is endlessly engaging, as the fire and brimstone of youth is melded with the well-honed values of experience.
In sheer colour and variety, in the exceptional refinement of its musicianship, Granelli here imparts a monumental stature to the eternal blues, seemingly played in the shadows of the Dance Hall.