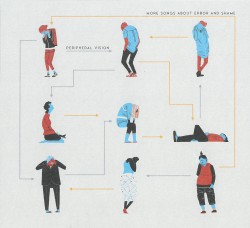 More Songs About Error and Shame
Peripheral Vision
Independent STEP3-007 (peripheralvisionmusic.com)
More Songs About Error and Shame is the fourth CD release from Peripheral Vision. Group leaders, guitarist Don Scott and bassist Michael Herring, wrote all seven tracks and are joined by Trevor Hogg on tenor saxophone and Nick Fraser on drums. They state the title is a reference to an "iconic album by famously neurotic band, Talking Heads" and it illustrates their desire to mix genres and themes along with different types of jazz and popular music.
The tunes are as inventive as their titles (e.g. The Blunder, Syntax Error, Click Bait) and each track evolves through melodic statements, repeated riffs, solos, duets and solid ensemble playing. The music sounds like elaborate conversations which ebb and flow, growing heated and then reflexive. For example, Mycelium Running begins with a lyric sax melody, develops into a lively interchange among sax, guitar and drums, followed by a long, lilting guitar solo and a pensive solo saxophone; then the rest of the band enters and it builds to a loud and majestic ending.
Scott's guitar mixes inventive lines, chord melody and even some grunge/fuzz tones. Fraser's drumming is always inventive and here he provides an engaging and shifting background to the mix of ensemble and solo playing. Hogg's playing is clean, focused and versatile while Herring's bass work is subtle, grooving and complex. More Songs is an inventive album with unique performances and a sense of humour.