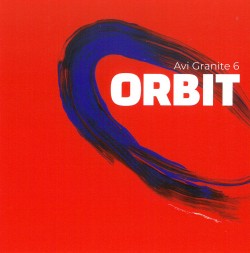 Orbit
Avi Granite 6
Pet Mantis Records PM102 (petmantisrecords.com)
Avi Granite 6
is a small combo comprising guitarist Granite, together with an extraordinary assemblage of reeds, trumpet, trombone, bass and drums. But Peter Lutek, Jim Lewis, Tom Richards, Neal Davis and Ted Warren are hardly an average backing band for the guitarist. The sextet comes together to offer a gorgeous evocation of Granite's music on Orbit, which is full of enigmatic depths, expectations, anger, hope, doubt and affirmation amid what seems like a moody atmosphere encountered through a shattered mirror by moonlight.
Despite all of the extreme emotion, Granite's music as heard on Like a Magazine can be meditative, with long, glistening runs on the guitar and saxophone. The guitarist can also be quite rambunctious, plucking and rattling the strings on the broadly grinning Knocking on the Door, or downright mysterious as on Over and Out/Ancestral Walkie Talkie, with his leaping, parabolic lines punctuated with jabbing octaves.
The music of Orbit has, by its composer's admission, been incubating for a decade, some of which was spent in a great personal crisis. Coming through has meant everything to Granite and this is reflected not only in the CD's quieter, more contemplative moments, but also in the jagged, bittersweet works such as Undo Process and When the View Became the Way. Together, these 11 pieces represent the work of a thoughtful composer with exceptional resourcefulness and imagination.