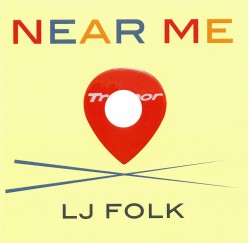 Near Me
LJ Folk
Independent NMLJF-FSM-18 (ljfolk.com)
I've got a new favourite Toronto singer. And by "new" I mean new to me, because LJ (aka Larry) Folk has been on the scene for decades in various capacities – guitarist, producer, composer and educator – in a variety of genres. But Folk's focus on singing – and jazz – for his second album, Near Me, means we are all the beneficiaries. A subtle singer, his voice is expressive yet controlled and has a lovely warm tone. In addition to singing, Folk plays guitar on several tracks and his compositions are sprinkled throughout the lineup. Recorded during two separate sessions with a who's who of Toronto jazz players, the covers include a couple of standards but mostly lean to rock classics.
Highlights of the album are the first track Brazilia!, a breezy, samba-tinged original, featuring Brazilian-born percussionist Maninho Costa and drummer Steve Heathcote, a swing treatment of Bargain by The Who, which works surprisingly well, and a lilting (12/8?) version of Elton John's Your Song with an extended soulful ending. The best bit is a duet with the exquisite Emilie-Claire Barlow on The Look of Love. Tasteful solos by all the players, including John MacMurchy on sax, Peter Mueller on guitar, Stu Harrison on piano and Pat Collins on bass, round out the charms of this album. Find concert dates at ljfolk.com.