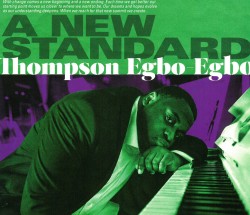 A New Standard
Thompson Egbo-Egbo
eOne Entertainment EMC-CD-16 (egbo.ca)
The notion of standards and the Great American Songbook have defined much of jazz music's history and each musician must choose a way to address this background. Pianist Thompson Egbo-Egbo's playfully titled album A New Standard contains both classic and not-so-standard standards.
Egbo-Egbo is a graduate of Humber College, studied at Berklee and regularly plays in Toronto with his trio. He performs with a calm assurance and combines elements of jazz, pop and classical styles. His playing is often more chordal and rhythmic than linear. Drummer Jeff Halischuck and bassist Randall Hall provide a sensitive and nuanced accompaniment.
Album highlights include Sing to the Moon in which Egbo-Egbo offers restrained accompaniment to a gorgeous vocal by Nikki Ponte. Softly As in a Morning Sunrise has a great bounce and right-hand intricacy reminiscent of Oscar Peterson. Be Courageous has a pop feel and gradually increases in intensity throughout its first half, which is driven by swirling drums; there is a brief solo respite and then it pushes to the end. Coltrane's Mr PC takes off at a blistering speed and after a frenetic solo it morphs into Spiderman which seems to just make sense. My Favourite Things brings together many of Egbo-Egbo's ideas and techniques. It begins with a quiet semi-classical arrangement with a left-handed counterpoint to the melody. Over its six-minute length it gradually builds and becomes louder, more intense and majestic with its impassioned ending.