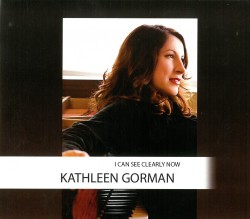 I Can See Clearly Now
Kathleen Gorman
Independent (kathleengorman.bandcamp.com)
Kathleen Gorman is already an accomplished pedagogue, adjudicator and clinician. Add to these a light and high-sprung rhythmic pianism, and this recording adds yet another prismatic facet to her multi-dimensional musical personality.
Gorman's three compositions reflect the evolution of a pianist deeply immersed in the forms and performance of classical music, with the touch-sensitive music of Arabesque and Mysterioso, redolent of dazzling runs and parabolic arpeggios. Influence, played in a dark, minor mode, is wonderfully arranged to capture the characteristic mystique of what has come to be called the Blue Note sound, one that recalls not just early iconic Herbie Hancock but also Freddy Hubbard and Wayne Shorter. And in all songs Gorman reveals a singular virtuosity that eschews showmanship and accentuates a phrasing style pregnant with emotion.
Other works reflect a composer-like skill in re-harmonization of original melodies to reflect a new angular perspective on the songs. Gorman does this by turning the original tonal colours of a piece into black and white before recolouring it in her own unique new way and guiding her wonderful ensemble into performing each new piece memorably. Both Sides Now, which also features her seductive voice, is a poignant example, as is the instrumental Over The Rainbow. The entire repertoire makes this a disc to die for.