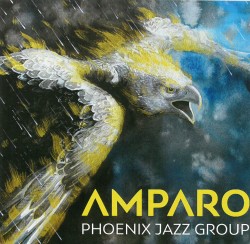 Amparo
Phoenix Jazz Group
Independent (phoenixjazzgroup.ca)
The Phoenix Jazz Group may not be a prominent blip on everyone's radar but among cognoscenti and musicians alike, keyboards player John McLelland, saxophonist and clarinetist Andy Klaehn, bassist Greg Prior, and drummer and percussionist John Goddard are held in high esteem. Their third album, Amparo, reflects the myriad styles in which the members of the ensemble are fluent. This stretches in a wide swathe from New Orleans and the ebullience of second-line marching rhythms to the swinging momentum of early jazz, fused with broad hints of 1970s' and contemporary rock.
It is in the fusion of these myriad styles that the group's music speaks best. The vivid and fierce imagery created by the cover on the CD package not only relates to the song Falcon (Revisited) but strikes at the very heart of the group's virtuoso artistry that is heard on songs such as Sojourn, with its questing melody, and Tribute, where the individuals' technical facility may be heard at its best – from the short arco burst of Prior's bass to McLelland's gracious arpeggios, Goddard's percussion colouring and Klaehn's startling glissandos.
The title of the recording suggests that music is a "refuge," or safe place. This can be felt throughout the short album, but nowhere more strongly than in the profound beauty of Amparo, the title track itself.