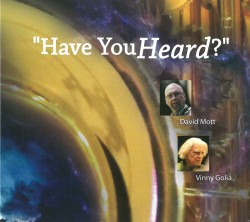 Have You Heard?
David Mott; Vinny Golia
Pet Mantis Records PMR011 (2baris.com)
Low reeds and woodwinds equate to musical gravitas, and when combined with the pronounced erudition of musicians such as David Mott and Vinny Golia, magical things happen. From the suggestive disc title Have You Heard? and the ethereal mystery of each track name to the questing music itself, this disc seems to contain echoes of another universe, as well as a yearning for the profound melodic intellect of the music to be reflected in our own planet.
Lest this seem like the description of something resembling science fiction, it is important to clear the air immediately – for it is anything but that. Music such as that contained in Power of Serenity, Serendipitous Ruminations and Urban Pastorale is an example of how loaded with meaning this album is. It is, however, in the dark and delicious rumble of two baritone saxophones locked in an interminable melodic double helix – often with magical counterpoint – that the music's vivid and changing colours most resemble the rich didacticism that ensues from deep philosophical discourse.
Although they are two distinct musical voices, Mott and Golia are so attuned to each other's artistry that they had to be separated into two audio channels. But it's not hard to tell who's who aurally. David Mott's tone is sharp, a reflection of the ululating voices in Eastern music that so fascinate him, while Golia's fat, rounded notes line up in sap-like, viscous phrases. Together they make dark, beautiful music.