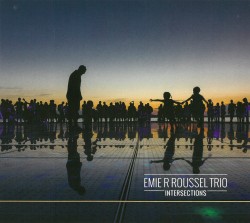 Intersections
Emie R Roussel Trio
Effendi Records FND148 (effendirecords.com)
It is quite impossible not to be seduced by the cultivated and masterful pianism of Emie R Roussel, whose music on Intersections is patently expansive and at times a veritable masterclass in how to build assiduous climaxes, how to intelligently scale one's dynamics and how to balance the music's massive textures in sonorously judicious proportions. Her music is vivid. Each piece is a unique narrative. Musical character is well rounded and each piece is always fully developed before its natural denouement announces a natural demise.
On three occasions the trio is expanded into a quartet and on each resulting work the addition of another musician – whether the vocalist on Away, the trumpeter on De Tadoussac à Auckland or the bassist on Tout le monde ensemble – is timely and perfectly placed. It's surely an indication that the ideas and the material dictate the direction that the music should take. Rhythm is also an essential tool throughout and Roussel depends greatly on her left hand bass lines, together with the flights of fancy by her drummer, Dominic Cloutier and bassist, Nicolas Bédard, as a means of communicating ideas as well as shaping the structure of each piece.
Each piece also has its own unique charisma, and flowing from this each gathers momentum, swinging to its climax with the wind of melody and harmony under its proverbial wings. All of this yields a magical and quite unforgettable album from a pianist of whom much is expected in the future.