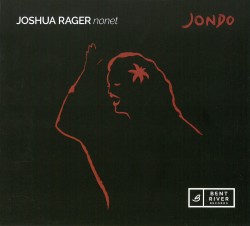 Jondo
Joshua Rager Nonet
Bent River Records BRR-201702 (joshrager.com)
With his highly alluring nonet recording entitled Jondo, pianist Josh Rager enters a field crowded with stellar performances by pianists. However, his multi-layered idiomatic compositions and their memorable execution set him somewhat apart from the rest of the tribe. The repertoire may be named after the rhythmically rich and mysterious Jondo, but the album derives most of its richness from the opening, extended work, the Prodigal Son Suite. It is a work that is by turns poised, polished, intimate and exuberant. Rager – with his lustrous pianism – leads an ensemble that works like a well-oiled machine, playing his compositions with authority and élan and doing a remarkable job of getting under Rager's sonic skin.
For his part the pianist swings with palpable enjoyment and as in the way he makes his trills into mischievous flourishes – especially on songs such as Child's Play and 3 Legged Dog – as well as in the rich variety of articulation and dynamic gradation throughout the rest of the recording. The pacing of his Zen-like piece, The Master Waits, and the tricky movements of The Inside Track, reveal Rager to be both a writer and pianist of distinct personality, ever sensitive and careful never to become overbearing.
In the end, how one will react to this recording will largely depend on one's taste for music that emerges from a large tonal palette. To that end, everything that the Joshua Rager Nonet serves up on Jondo is brimful with infectious delight and enjoyment.