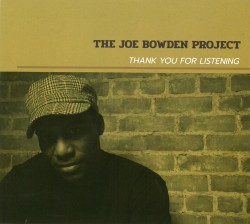 Thank You for Listening
The Joe Bowden Project
Independent (joebowden.bandcamp.com)
As a young teenager, I was taught to repeat the phrase "thank you for listening" when taking a post-performance bow. Joe Bowden should feel free to repeat this phrase over and over as he deserves endless praise and respect for his brilliant work as composer, drummer, arranger and bandleader in his latest release. Originally from Halifax, Bowden moved to Toronto in the early 1980s where he studied at Humber College and was musically inspired by listening to and working with many jazz musicians. His music here is driven by a mature understanding of jazz style, rhythms, and awe-inspiring musicianship.
Bowden's ten musicians play with a deep respect for his music and artistry. Mingus is an upbeat toe-tapping tradition-flavoured tune with a locked-in groove between the drums and Rich Brown's bass. I'm Here Again is a slower quasi-ballad, featuring Michael Occhipinti's modernistic guitar solos and Manuel Valera's chromatic runs and intervals on piano. Devil Five lives up to its title, featuring a wide interval, almost minimalistic repeating bass line, zippy piano runs and Bowden's virtuosic drum solos. Nice change of pace with FSC (Funky Soul Calypso), a fun get-up-and-dance tune featuring Joy Lapps-Lewis' steel pan artistry.
Bowden writes on the CD jacket "Pursuit of Happiness, is it reality or a dream?" Like the track of the same name, the reflection, improvisations and grooves make this a dreamy musical reality!