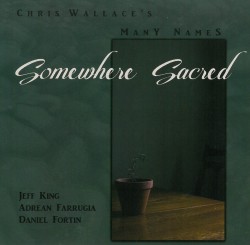 Somewhere Sacred
Chris Wallace's Many Names
GB Records (chriswallacedrums.com)
Jazz musician/drummer/composer Chris Wallace hails from Regina, but his varied career has seen him working in Europe, the United States and Canada, residing/working in Edinburgh, Scotland from 2002 to 2013 when he moved to Toronto. So many locales and musical experiences, along with his compositional process he describes as "allowing myself to be open to something I don't fully understand and that is where the music comes from – somewhere sacred," must have influenced his smart contemporary jazz compositions here, featuring his outstanding band Many Names – Jeff King (tenor sax), Adrean Farrugia (piano) and Daniel Fortin (double bass).
Wallace the composer and Wallace the drummer both listen astutely, have complex technical prowess and unique musical storytelling capabilities. Wallace's drumming is dense and colourful yet never overwhelming, and fully supportive of his colleagues – as best heard in Chapter Zero where his backdrop supports King's sax stylings, Farrugia's florid piano, Fortin's driving bass and the occasional band quasi-unison sections. More reflective is the opening of the title track, with a luscious sax melody, laid-back groove, superb bass solo and wide-pitch piano explorations. New-music sounds appear in the pitch leaps in the sax and the chromatic florid piano runs of Visitation. Nice musical conversations between the players flavour the more traditional jazz sounding A Memory of 10.
With touches of many styles throughout performed by great multi-faceted musicians/improvisers, Wallace's challenging jazz welcomes repeated listening.