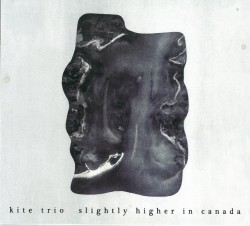 Slightly Higher in Canada
Kite Trio
Sunset Hill Music SHM-021703 (kitetrio.com)
With their third release, this fine Montreal-based jazz trio has pushed past the boundaries of contemporary jazz and into a zone of pure expression and freedom. Produced by Dave King (The Bad Plus), the recording is both raw and experimental. Of the 12 explorations here, half are composed by the trio, and half by the talented individual members of the ensemble, which include Eric Couture-Telmosse on guitar, Paul Van Dyk on bass and Eric Dew on drums, synthesizer and banjo.
On the opening track, Pidgin, the ensemble creeps in with a subtle, and then an insistent, guitar-defined rhythm and melody. The seemingly simple becomes complex as the composition dis-assembles into molecular form and re-assembles into kinesthetic harmonic and percussive exultation. The next track up is Paul Van Dyk's Estranged – a solemn solo journey to the netherworld of the acoustic bass, where dark double-stops transport the listener deep into the chasm of the bass clef. The appealing That Good Old Feeling features the trio in an energetic and joyous light. Bombastic and masterful drum and guitar work as well as solid, innovative bass lines (arco and pizzicato) and some well-placed banjo embellishments define this fine arrangement.
The dynamic title track establishes a complex pulse of opposition and contrast, while lyrical sections seductively lure the listener into a thrilling guitar-infused realm of vibrancy, rife with the goose-bump raising excitement of possible danger. Another standout is Milkman, which represents the perfect integration of rock and free jazz sensibilities, and also features more superb Richter-scale musicianship from the trio a well as intriguing synthesizer sequences.