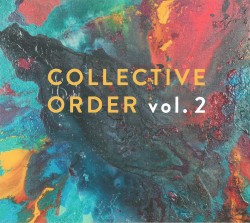 Volume Two
Collective Order
Independent (collectiveorderjazz.com)
What separates Volume Two from the 2016 album Volume One by Collective Order is the fact that on this second edition the music comprises original charts written by members of the ensemble, a "community," as it is referred to in the notes to this package. While it is impossible to imagine a group without at least a musical director, Collective Order prefers to keep that function anonymous in its determination to maintain the communal spirit of these large-ensemble works, no doubt. So far this strategy appears to be working to the group's advantage, as these 12 charts prove yet again and with good reason.
Incredibly the work of composition too is well-spread, including contributions from Andrew McAnsh, Liam Stanley, Ethan Tilbury, Ewen Farncombe, Jocelyn Barth, Connor Newton, Chris Adriaanse, Laura Swankey, Jon Foster, Connor Walsh, Belinda Corpuz, Andrew Miller and Joel Visentin. This represents a total of 13 members from the 19-member ensemble; something unusually democratic in any configuration of a music group. Even more remarkable is the fact that despite coming from so many different pens, there appears to be a wonderful uniformity of sound suggesting a kind of rare musical intimacy between the members of the band.
Whether evocative of rarefied realms, such as in Laniakea, or for a deep attachment to terra firma, as in Outside My Window, each chart takes us into some wild or wonderful place with trusted and inspiring musical friends.