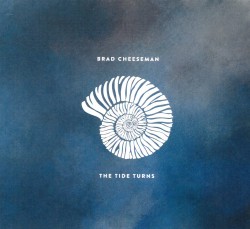 The Tide Turns
Brad Cheeseman
Independent BCM1701 (bradcheeseman.com)
This exploratory borehole into the atmospheric stratum of contemporary music is only the second in the career of bassist Brad Cheeseman. Unlike other early recordings made by musicians of his generation, The Tide Turns redeems itself from self-indulgence by being original (all but one of the compositions is by Cheeseman) and moreover, each is accessible enough to not require any decoding on the part of the listener. Secondly, this is a musical snapshot captured in the process of – as the bassist puts it – "change, self-discovery and reinvention." To those aspects of the music's source one might also add a blending of idioms in music that also retains much emotional intensity and originality.
On this disc Cheeseman shows that a musician can set out to find his own voice; and coming ever closer to doing so, might still retain the early echoes of his idols and those who influenced his playing. Happily the accolade of winning the 2016 Montreal Jazz Festival's Grand Prix de Jazz has not made Cheeseman either wool-headed or a musical stuffed shirt. This is immediately recognisable in the music, which is all born of a questing quality combined with a rhythmically rock-solid yet splendidly discursive style designed to create music that seems to be contemplative rather than chatty. Despite moments which are unnecessarily garrulous and interrupted by frequent solos, this is energetic music exemplified in the swinging of Falling Forward.