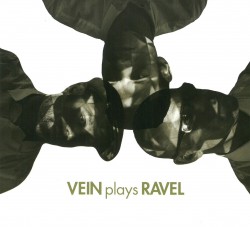 Vein plays Ravel
Vein (featuring Andy Sheppard)
Challenge Records Int. DMCHR 71179 (vein.ch)
Claude Debussy was at the head of the re-emergence of a complete French school in music that began as a reaction against Wagnerism. His most famous lieutenant was Maurice Ravel who, however, never completely followed Debussy's lead into the world of extreme formal and tonal ambiguity. It was Ravel who cultivated a style that combined the Classical with the contemporary and famously – especially in Le Tombeau de Couperin – fostered a more complex hybrid that included Romani music, jazz, Spanish culture and the music of the Far East. It is with that iconic suite composed originally for solo piano that Vein begin their unusual tribute to Ravel.
On Le Tombeau de Couperin Vein employs the jazz trio format to re-imagine Ravel's suite, adding to the subtle colours and evanescent textures of the music. In the hands of pianist Michael Arbenz, bassist Thomas Lähns and drummer Florian Arbenz, the listener is not merely dazzled by sound, but rather introduced to Ravel's marvellous sense of melody and structure. This tribute to the dead, written during World War I, is brought back to life by Vein with unconventional and progressive harmonies. A horn section on Bolero finds saxophonist Andy Sheppard its most skilful advocate. Florian Arbenz never loses concentration either, adopting a well-judged pulse and joining the full group in moulding a wonderfully rich orchestral texture. Vein plays Ravel is classic jazz.