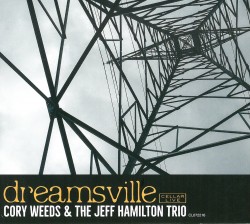 Dreamsville
Cory Weeds & The Jeff Hamilton Trio
Cellar Live CL072216 (cellarlive.com)
Dreamsville, the latest recording from Vancouverite Cory Weeds, pairs the soulful saxophonist with drummer Jeff Hamilton's trio for a set of fine jazz loosely framed around the work of the late American film composer, Henry Mancini. While Weeds and company (pianist Tamir Hendelman, bassist Christoph Luty and Hamilton) are all unique soloists and ensemble players with individualized approaches to the music, the overarching shared quartet values of infectious swing, purity of instrumental tone and good taste rudder this recording to a satisfying place that should find it included on many year-end "best of" lists. This, the second pairing of Weeds and the Hamilton trio, again demonstrates that there is much creativity to be mined from this classic jazz horn/rhythm section format, when master musicians coalesce to collectively elevate the music to a higher plane than can be achieved by one individual. Jazz is a social and participatory music and Weeds – as his impressive discography exhibits – is skilled at seeking outside musicians who share this attitude, choosing or writing music that encourages creative collaboration and setting up a relaxed environment for musical joy to flourish. Accordingly, Dreamsville bounces along with an effervescent pulse that showcases all parties in a most swinging and flattering light. This is a set of happy music (case in point: How Do You Like Them Apples?) and yet another accomplishment for Weeds, who as saxophonist, booking agent, label owner, composer and concert promoter, continues to be a going concern on the Canadian jazz scene.