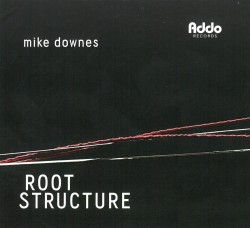 Root Structure
Mike Downes
Addo AJR035 (mikedownes.com)
Review
Talented bassist and composer Mike Downes has just released one of the most intriguing and innovative small group jazz recordings of the year. In addition to writing all of the well-conceived material here (with the exception of his unique arrangement of Chopin's Prelude and Variations), Mike also performs masterfully, as do the rest of the impressive musicians on Root Structure, including Ted Quinlan on guitars, Robi Botos on piano/keyboards and Larnell Lewis on drums. The ten tracks were co-produced by Downes and Steve Bellamy and beautifully engineered by the latter.
The aptly titled opener, Momentum, is an auditory treat. Downes' deep, warm, round, substantial bass tones define the spine of this intricate tune, as each artist stretches out in exciting solo sections. Next up is Heart of the Matter, a beautiful ballad featuring the luscious guitar work of Quinlan. This is a sophisticated, verdant, romantic composition and the listener can almost imagine Downes' tip of the hat to geniuses Michel Legrand and Tom Jobim. Also of note is Moving Mountains – a throbbing, relentless bass line and an eruption of intense sonic colours from Quinlan as he accelerates into a major face-melter.
A true standout is the soulful title track. The late jazz bassist Red Mitchell used to say that "bass players are attracted to their instruments because they perpetually want to get to the bottom of things… the truth." On this thrilling track (and others), Downes is indeed at the very bottom of things – dealing with human truths and primal forces, as well as the earliest forms of human expression, which are defined by emotion and percussion (negotiated with brilliance, acuity and flair by Lewis).