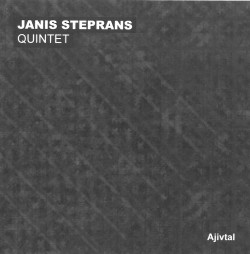 Ajivtal
Janis Steprans Quintet
Effendi Records FND145
(effendirecords.com)
The album title, Ajivtal, is Latvija (Latvia) spelled backwards and is inspired not only by the music of Janis Steprans' ancestors who came from there but also by Sonny Rollins' Airegin, which is Nigeria spelled backwards. Steprans' own sense of melodic sense, though, is more rooted in the lyrical leaping of Charlie Parker. You won't find any of the 1.2 million Latvian texts or any of the 30,000 melodies that still survive in the Baltic state's traditional music. However, in the high and lonesome melodic, almost mystical hum of Steprans' soprano and alto saxophones, the low throaty rasp of his tenor and even the voluptuous, woody bleat of his clarinet there are indeed faint echoes of the lyrical dainas, the drone vocal styles, and even a hint of Baltic psaltery.
The textural and rhythmic tightness of Steprans' writing and the intensity of his playing give the performance of this repertoire a compressed timbre, which, despite digital technology, makes it sound like something fulsome and almost analogue. Compositionally as well as in terms of performance – especially in group dynamics – there is a knitted pattern that emerges as the music unfolds its undulating melodies in the saxophone-guitar-piano contrapuntal progressions. Flowing rhythms inform the exquisite Ajivtal and Chambre No.5. Meanwhile, the pulsing bass throughout and the climbing reed and wind lines bloom in Suite de Thèmes Lettons, and in Un Autre Original there is a glorious headlong celebration of instrumental virtuosity.