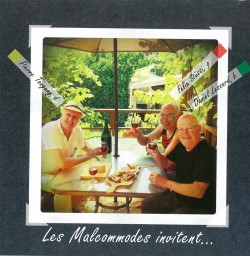 Les Malcommodes invitent …
Les Malcommodes
Effendi Records FND147
(effendirecords.com)
In 2010, Montreal pianist/composer Félix Stüssi created the jazz trio Les Malcommodes, comprising himself, bassist Daniel Lessard and drummer Pierre Tanguay. When Stüssi turned 50 he decided to start a new project and added other players to the mix – Sonia Johnson, Ray Anderson, Jean Derome, André Leroux and Jacques Kuba Séguin. Though they had not really played together before, Stüssi admired these musicians. The resulting 2016 music recorded here is exciting, happy, tight-ensemble playing which, though mainly based in tonal jazz sounds, also leaps into other musical styles with ease and musicality.
Stüssi sets the musical stage with his piano stylings in the opening track Fore-Bley, a tribute to the late, great Canadian jazz pianist Paul Bley. The following Bley On! features short unaccompanied solos by each musician interspersed with full band sections. This is followed by more sonic explorations in duets and band sections. Especially noteworthy is Derome's brilliant flute playing against Tanguay's witty drums, and Johnson's rich vocal tone in Debout Au Bout du Bout-Du-Banc. Great Lessard bass solo in the opening of I Can See Your Rainbow. Way too much listening fun in the two-minute Jungle Chat where the musicians hang up their jazz hats briefly to squawk and tweet like jungle beasts until they break into the more toe-tapping melodies and grooves of Anderson's Monkey Talk.
Recording quality is great. Jam-packed with jazzy musical sounds, this is smart music performed by even smarter musicians.