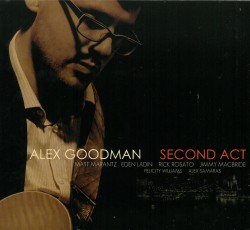 Second Act
Alex Goodman
Lyte Records LR040 (lyterecords.com)
It seems that for much of Second Act, Alex Goodman maintains a sort of spectral presence as a guitarist, shadowing the pianist Eden Ladin or saxophonist and EWI player Matt Marantz with liquid single-note lines, creating contrapuntal tête-à-têtes with them. But in each song Goodman does emerge briefly to punch the clock with short, stabbing solos that might end – as with Marantz's saxophone in Heightened – in a kind of knotted entanglement with the melody before all but disappearing into the shadows of the music again. This, of course, puts the focus back on the compositional ability of Goodman and how his sinuous music sounds when played in an ensemble setting.
It's also refreshing when a disc turns up that hearkens back to unfettered swing the way Second Act does. In a sense it feels like listening to big band music without the large ensemble. This quintet is also augmented by the incredible vocalists Felicity Williams and Alex Samaras. Together the ensemble sounds big even as it loses flutes and strings. This keeps the superbly economical melodies swinging and staying in shape through the spare, yet enhanced aural palettes of guitar, piano, saxophone and voice. The breathless fluttering of guitar on The First Break, tumbling cascades of piano in Losing Cool and burbling warmth of the saxophone on Acrobat all make for high art and high entertainment. And when the two meet – as they do in Second Act – memorability is assured.